Welcome to Clearwater Beach Photography!
Whether you're vacationing in Clearwater Beach, getting married on Clearwater Beach, planning a family reunion or hosting a special event, Clearwater Beach Photography can help make your special occassion a memorable one. Call us to discuss your upcoming trip and to schedule the best photography session Clearwater Beach has to offer!
727-808-5212
Check Availability - Gift Certificates - Book Online
Clearwater Beach Family Portraits Photography
Clearwater Beach Photography specializes in providing fun family portrait sessions on Clearwater Beach and all of it's surrounding beach-front communities.
View Samples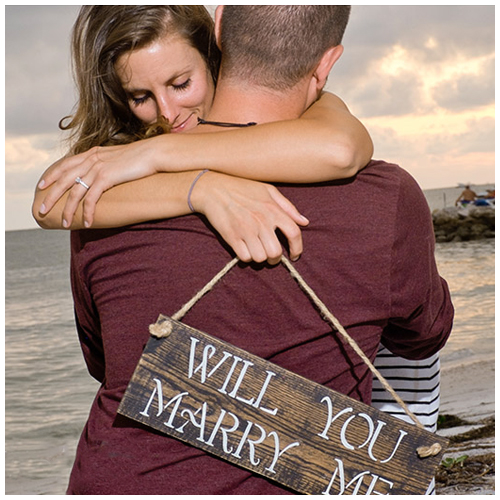 Clearwater Beach Surprise Engagement Photography
Planning on popping the question during your visit to Clearwater Beach? Commemorate the moment with engagement photos AND Video!
View Samples
Clearwater Beach Wedding Photographer
If you've dreamed of having your wedding on white, sandy beaches, your Clearwater Beach Wedding Photographer is just a phone call or email away.
View Samples
Clearwater Beach Photographer, Paul Rosado

Hello friends! Welcome to Clearwater Beach Photography, where white-sandy beaches meet blue skies and crashing waves for the ultimate backdrop of your upcoming beach portraits. My name is Paul Rosado, Owner and lead Photographer of Clearwater Beach Photography, and I'm so excited that you're here!

Let me just start by saying that, it would be an absolute honor to be your Beach Photographer during your visit to the Clearwater area. The beach is, barr none, the best location a professional Photographer could ever hope to work in, but for me, the scene isn't complete until your family is in it. As a passionate portrait Photographer, I always strive to improve my craft. The mindset that I approach every session with is to make each successive session better than the last, so you can rest assured that, together, we are going to produce the BEST photos I've ever taken… and have a blast doing it.
--read more--
Family Photographer near Clearwater Beach
If you're searching for a photographer near Clearwater Beach, look no further. Clearwater Beach Photography offers Beach Portrait Sessions for couples and families visiting all of our neighboring beach-front communities.
While the majority of our beach portrait sessions take place right in the Clearwater Beach area, it's sometimes more convenient to have your portrait photographer come to you. If you've rented a beach-front AirBNB or Condo, why not enjoy your portrait session right in your own backyard. I'm happy to meet you at your vacation rental anywhere from St. Pete Beach to Hudson, Florida.
Maybe you're partial to a certain beach location outside of Clearwater Beach. Perhaps you got engageed in Treasure Island and you're visiting again for your anniversary. Clearwater Beach isn't the only option. As a mobile beach Photographer, I'm happy to travel to you. The only stipulation is that you opt for one of my hour-long session packages, as opposed to the half-hour option, which details you can find by clicking here. All half-hour sessions (Bronze Sessions) take place in the City of Clearwater Beach.
Below are a list of beach-front communities that I frequent through-out the year for my visiting families. If you're looking for a clearwater Beach Photographer and your vacationing in any of these destinations or one close by, don't hesitate to contact me to discuss your upcoming trip. It would be my pleasure to act as your Clearwater Beach Photographer and to help you commemorate your trip with unforgetable memories.
St. Pete Beach Photography
Treasure Island Photography
Madeira Beach Photography
Redington Shores Photography
Indian Shores Photography
Indian Rocks Beach Photography
Belleair Beach Photography
Sand Key Beach Photography
Clearwater Beach Photography
Honeymoon Island Beach Photography
Crystal Beach Photography
Sunset Beach Photography
Howard Park Beach Photography
Anclote Beach Photography
Gulf Harbors Beach Photography
Green Key Beach Photography
Hudson Beach Photography