Planning a trip to Clearwater Beach and scheduling a photography session is bound to raise some questions. Below are a few of the most commonly asked questions I've received from families interested in booking a session. If you don't see a question you have below, feel free to contact me by phone or email with any questions you might have about booking a session with Clearwater Beach Photography.
When Should I Book My Session with Clearwater Beach Photography?
As soon as possible! Run... don't walk! As the Owner of Clearwater Beach Photography, nothing pains me more than having to tell a family that I'm fully booked during their vacation. While it's totally avoidable, it does sometimes happen. For that reason, I recommend scheduling your photography session as soon as possible for a better chance of obtaining your desired date. This certainly holds true for Spring and Summer sessions, as I tend to fill my calendar pretty quickly. Outside of that, two weeks to a month prior to your desired date is a good rule of thumb. But, that's not to say that a last minute session isn't available. So, if you're already down in Clearwater Beach and decide "Hey, it might be nice to have a Photo Session!", then give me a call. You never know. If I can make it happen, I'll make it happen.
What Should We Wear During Our Photo Session?
Well... quite frankly... whatever you want! Take Pat, for example. He was vising from overseas and wanted to wear a kilt. What was my response? "YES, PLEASE!"
This is a VERY common question, but it's also very subjective. A lot of families like to go with the traditional white tops and khaki bottoms or jeans, which works out perfectly. I, however, personally LOVE color. Especially when shooting against the beautiful colors of a sunset. I typically tell families to where something that represents their family's personality. Or, if you plan on hanging photos on the wall, why not wear something that compliments your décor?
Color-wise, anything will look good for beach photography EXCEPT for bright or neon colors! Stick to pastels or toned down primaries as opposed to bright red, blue, purple or hot pink.
Ladies, if you like wearing dresses, maxi-dresses are beautiful on the beach. For guys or gals, jeans, white shorts/pants or khaki shorts/pants with a nice color shirt works perfectly. Patterns on shirts are ok, but solids tend to lend a bit better for beach photography. If you're a casual family, t-shirts work just fine. If you want the photos to look a bit more elegant, polos or short-sleeve button-up shirts might be a better fit.
Where Will the Photography Session in Clearwater Beach Take Place?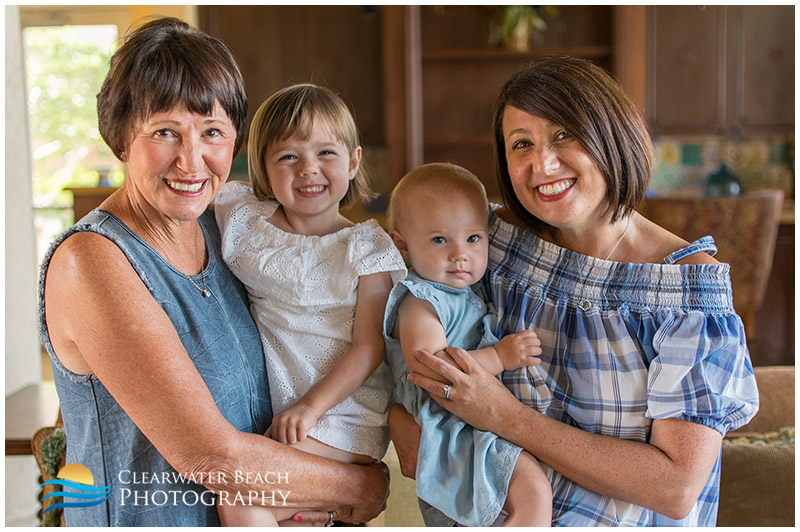 Your photography session can take place on a beach in the Clearwater area or right in your own backyard. That's right... I'm more than happy to come to you. In fact, just because my Company name is Clearwater Beach Photography, it doesn't mean that the photography session has to take place on the beach OR in Clearwater, at all!
If you're staying in a vacation home or condo anywhere between Clearwater Beach and St. Pete Beach, and you'd prefer to have your session there, just say the word and I'm there. Especially when dealing with larger groups, the convenience of you all not having to travel to another location can be invaluable and a huge time saver. Just be sure to provide the physical address so that I can make my way to you.
What if it Rains During Our Photography Session?
If it rains during your Clearwater Beach Photography Session… WE RUN! Otherwise, we're going to get REALLY wet! Well… only if we're already on the beach when it decides to rain. However, if we detect the rain before your session falls upon us, we have a couple of options to work around it. Read below.
How Do You Know if the Weather is Going to Be a Problem?
Let me start by saying that being a Photographer on Clearwater Beach practically requires you to have a minor in Meteorology. Seriously… the weather here in Florida can be absolutely bananas. With over 20 years of experience working on Clearwater Beach as a Photographer, you tend to gain a better understanding of the weather than the average person. Outside of the regular forecast, I study aeronautical weather forecasts used in aviation to give me a more accurate idea of what's going on in the area. This provides the best insight on what's going on locally.
Should I Keep an Eye on the Weather in Clearwater Beach Before My Session?
I usually get calls from families about a week before their scheduled photography session in Clearwater Beach, letting me know that there's rain in the forecast when their session is supposed to take place. Don't let that worry you. The forecast a week out isn't very accurate. If you're going to keep an eye on the local weather, wait until a couple of days prior to your session to check on it. If something looks like it's cause for concern, I will certainly call you and let you know. But, if it gives you peace of mind, you're always invited to call me first.
Should We Reschedule the Photo Session If the Weather Looks Bad?
No way! In all honesty, some of my best photos are taken when storm clouds are in the area. What it does to the sky is absolutely breathtaking and makes for some VERY dramatic photos. Rescheduling a photography session due to bad weather in Clearwater Beach is very seldom required. However, should I determine that weather is going to be an issue, we can most certainly entertain the option of rescheduling, as long as it works out with your time in the area and an open photography session slot is available.
Do You Require a Deposit to Book a Clearwater Beach Photography Session?
We do require a $95 deposit upon booking with Clearwater Beach Photography. These deposits will go towards the entire session amount, with the balance being due on the day of your scheduled photography session.
What's Your Cancellation Policy If We Want to Cancel A Session?
I completely understand that unforeseen circumstances can occur during a vacation, or even the planning of a trip. Our cancelation policy is intended to help protect your investment as well as to acknowledge the value of the time scheduled on behalf of the Photographer.
If you cancel your session two weeks or longer prior to your scheduled date, your deposit can be held and used for a session at a future date or can be fully refunded upon request. Two weeks usually gives sufficient time for another family to request that date if it becomes available again.
Cancellations less then two weeks, but more than one week prior to your session can be held and used for a session at a future date or refunded, minus a $50 cancellation fee. It's a little harder to find a replacement family for the session, which would therefore be counted as a loss. The $50 cancellation fee would help offset the loss of time.
Cancelations requested within one-week or less of your scheduled photo session will forfeit the entire deposit amount. It can be very difficult to find a replacement family with such short notice.
If you have any other questions about the details of a Clearwater Beach Photography Session, don't hesitate to contact me by phone or by email. I'm happy to help in any way that I can. Feel free to browse the rest of the website for samples of my photography and some more interesting reading.