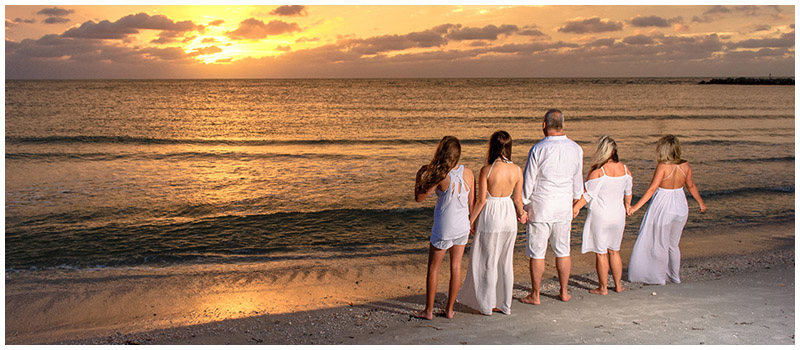 Despite the negative weather forecast that we at Clearwater Beach Photography observed and the cloud-filled skies overhead, yesterday's session at Sand Key Beach was AMAZING!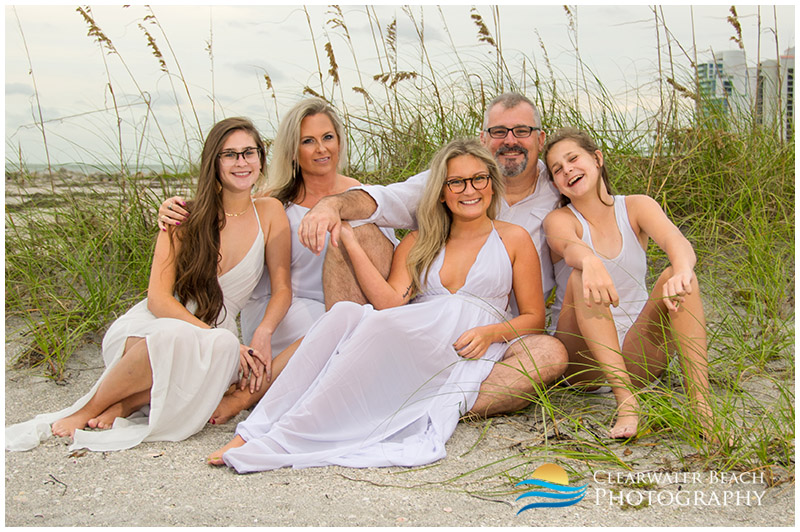 To start, the family was awesome! Have you ever had the opportunity to work with people who are just so cool, funny, and laid-back that it doesn't feel like you're working at all? Well that was this family. Not only were their personalities great, but they didn't throw in the towel when their Clearwater Beach Sunset Session seemed to be doomed by crappy weather. As a Clearwater Beach Photographer, I'm usually pretty optimistic if I see an inkling of a chance that the sun is going to break through the clouds, but on this night, I just wasn't sure.
"You see that little, tiny space between the clouds over there?" I said, pointing and squinting towards the distant horizon at a small opening in the sky. "The sun just might peak through for a couple of shots, but that'll be your sunset", I stated somberly. "It is what it is!" the parents nonchalantly replied with great attitudes. So, we continued working the coast of the beach, laughing and carrying on along the way. We got lots of great shots, but I kept looking towards the West, hoping for conditions to change. I wanted this family to have their sunset… badly.
As the session was coming to an end, I rallied the family together by the water. "There's one more spot right up here that I'd like to take some photos of the family at and we'll probably end there", I disclosed. But, as I began walking away from the shore to our final destination, looking over my shoulder to check on the family following me, I noticed something. "Ok… wait…I'm sorry. Go back. Look behind you!" I said enthusiastically. "Whoa!" they responded. The sun began to break! And, not just a little. Within 20 seconds of turning them back around towards the water, the rays of light filled the skies towards the horizon for a setting that Clearwater Beach Photographers live for. It was AWESOME!
I couldn't be happier with the results of the session. As the Photographer of Clearwater Beach Photography, I've had this happen time and time again. When all seems hopeless for a sunset session to take place, something magical happens. It just goes to show that it pays to have a little patience. Special thanks to Kim, Dan, Bev, Kailey, Stella (Jill), Emma and Stephen for a fun-filled night on the beach. Enjoy your portraits!