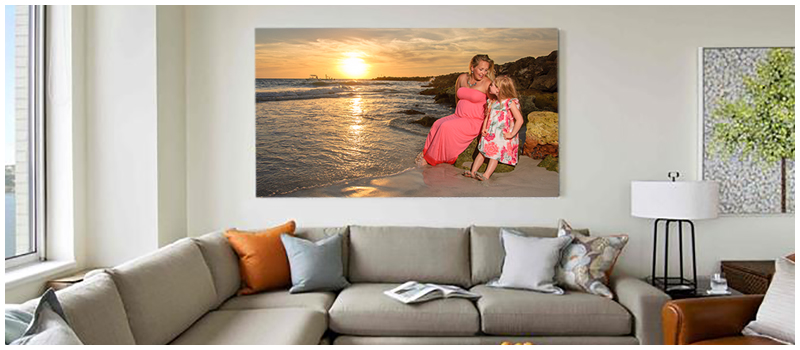 Here's why I love Clearwater Beach family portraits. Have you ever walked into a friends home and seen a family portrait hanging on the wall? You might have taken notice of it as a wall decoration, but did you care to ask any questions about it? Nine times out of ten, the answer to this question is "no". Now, when you hang Clearwater Beach family portraits on your wall, you've got an instant conversation piece that NOBODY is going to ignore, which is kind of the point of having it on display, isn't it? The best part about it is the fact that it's a one-of-a-kind unique piece created just for you, featuring you and your family. Not only that, but there's a story behind it, which leads to a conversation about that unforgettable trip to Clearwater Beach that your family enjoyed during your last vacation.
"Wow... that's a BEAUTIFUL family portrait! Where was that taken?" gasps your wide-eyed guest, staring intently into your portrait as if they've drifted off into the serenity of its landscape. "Ah, yes... THAT, my friend, was taken during our visit to Clearwater Beach by the infamous Paul Rosado of Clearwater Beach Photography", you boastfully exclaim.
Ok... so maybe you don't mention my name OR Clearwater Beach Photography, but you get the picture. Having the opportunity to talk about the Clearwater Beach portraits plastered on the walls of your home not only give you an opportunity to talk about something enjoyable, but you get to relive your visit to Clearwater Beach again and again. What the beach looked like, the sounds of the crashing waves, the awe-inspiring sunsets, and the fun your family had during your Clearwater Beach family portrait session, one of the best photo sessions you've ever experienced. "My kids had SOOO much fun during that session. I don't think we'll EVER go to JC Penny for family portraits again. Having them sit still at a studio is like pulling teeth!" I can't tell you how many times I've heard comments like this, which is why I recommend Clearwater Beach family portraits for any family, especially those with kids.
They say a picture is worth a thousand words, which can most certainly hold true. If these calculations are anywhere near accurate, then your bounty from a Clearwater Beach family portrait session should keep you talking for a lifetime! If you're planning a trip to the area and are looking to have family portraits taken or are looking for a Wedding Photographer in Clearwater Beach, give me a shout. I travel anywhere from St. Pete Beach to Hudson Beach to accommodate my families for portraits, or we can meet in the heart of it all in Clearwater Beach. I look forward to helping you cover your walls with enjoyable memories for years to come.
Below are a few more examples of some Clearwater Beach family portraits I've taken. And, here's a little exercise I'd like for you to do. Take a look at the photos and see what kind of natural reaction you get when you view them. Do they make you smile? Do they make you laugh? Does the lighting captivate you? Do they draw you to a question, like "What were those three boys up to that made them laugh so hysterically?" Or, do they just allow you to gaze for a while, thinking "Wow... that really is beautiful". If you experience any of these reactions, I've done a good job, because my goal as your Clearwater Beach Photographer is for you to experience ALL of these emotions and more when you view your OWN family portraits after a session with Clearwater Beach Photography.