If you're looking for a Senior Picture Photographer in Clearwater Beach... CONGRATULATIONS! You're on the home stretch of graduating high school! And, what better way to celebrate than to commemorate your senior year with some EPIC photos on the Beach!
Having your Senior Pictures taken on Clearwater Beach is SOOO cool for SOOO many reasons:
You get to take a vacation to Florida!
Your Senior Portraits are going to be taken on the beach in one of the most POPULAR places on the East Coast!
While your friends are on tanning beds, you'll be soaking in the sun in Clearwater!
All of your friends are going to be SO jealous of your pictures! Why?...
Because, you're about to book the BEST Senior Picture Photographer in Clearwater Beach... and, we're going to have a blast!
Thank your Parents for Your Senior Pictures on Clearwater Beach
That's right... I'm giving a shout-out to the Mom's and Dad's out there who are willing to bring their teens to the beautiful city of Clearwater Beach for Senior Pictures. What an AWESOME way to finish this chapter in their lives! And, THANK YOU for even considering me to be their Senior Picture Photographer. These are going to be some of the most important photos they have when they look back at life, and I plan on making this experience one they will NEVER forget.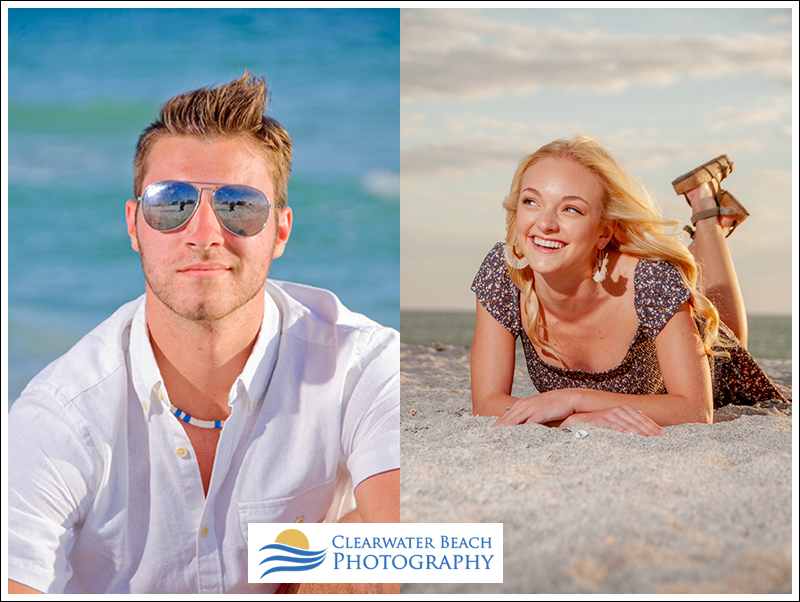 Photographer Tips to Make Your Senior Pictures in Clearwater EPIC
When it comes to having your Senior Pictures taken on Clearwater Beach, there are a few tips I like to give my teens to prepare for a great session. Got a pencil? Jot these down. Better yet... just print out this page:
Unleash your personality! Be prepared to just let go and have fun! I know that for some, pictures are not their fav. While others are very comfortable in front of the camera. Well, if you're the shy type, I'm asking you to put all of that aside! I REALLY want your personality to shine. This session is all about YOU! No one else! So, let's make it the best experience EVER and just have some fun.
What's your gig? What do you like to do? What are your skills and hobbies? Basketball... Dance... Gymnastics... Band? I want some of your Senior Pictures on Clearwater Beach to showcase something unique about you. So, feel free to bring a prop, costume or jersey to use during the session. And, if you're a dancer or gymnast, be ready to BRING IT!
Whatcha' gonna wear? As your Senior Picture Photographer, I'm going to treat this day as a fashion show, with you as my only model! Feel free to bring up to three outfits, as well as your cap and gown, if you have it. I'll bring a portable dressing room so that we don't have to worry about running back and forth to the bathhouse. One outfit is fine, but bring up to three, if you like.
Feel free to bring simple props. Some seniors like to showcase their graduating class year by bringing numbers. To save on bringing too much in your luggage, I recommend that you just buy those while you're here in Florida.
And, here's the most important tip of all, AGAIN. Just... have... FUN!
Book Your Senior Picture Photographer in Clearwater Beach NOW!
Once you have your itinerary all set for your trip to Clearwater Beach, book your Senior Picture Photographer as soon as you can. Not all Photographers are the same, and if you want the Photographer of your choice, whether it's me or not, book them as soon as it's practical for you. Nothing breaks my heart more than telling a teen that I'm not going to be available during their Senior Trip for Beach Photos. So, if you now your dates, feel free to look at my online shedular and book your session from there. Once you book, your date and time will be locked in and I'll be anxieously waiting to meet you when you arrive at the beach for your session!
Well, that's all I've got for now. But, if you have any other questions, feel free to shoot me a text, call or email. I'm happy to answer any other quesitons you might have. Otherwise, I look forward to meeting you out on the beach!