In todays day and age, finding photographers in Clearwater Florida for a Wedding, upcoming event or family portrait session is as easy as conducting an online search. In fact, you probably landed on this website as a result of searching for a phrase such as "Photographers in Clearwater Florida", and if that's the case, I'm glad you're here!
Clearwater Beach Photography has been operating in Florida as one of the top Photographers for locals, vacationing families and couples for over 10 years. My specialty as a Photographer in Clearwater Florida is creating gallery-quality portraits on the beach using a VERY laid-back, fun, and relaxed approach.
Choosing the Right Photographer in Clearwater Florida
While you might find that there are several Photographers in Clearwater Florida to select from, the styles and services offered by each Photographer varies tremendously. So, how do you choose? It all depends on your taste and what kind of photographer you're looking for.
Let's say, for instance, you're looking for a Photographer in Clearwater Florida to photograph your beach Wedding behind the Sand Pearl Resort, with the reception scheduled to take place inside the resort. In this case, you're going to want a Photographer that's familiar with the intricacies of photographing both indoors in low-light situations, as well as the harsh backlighting of the sun outside during your sunset-formal portraits. If they don't have this experience, the wrong Photographers in Clearwater Florida could leave you with a collection of formal portraits that look more like silhouettes. Don't get me wrong… I like my occasional silhouette, but I think the Bride and Groom might like to see, well… themselves in some of their pictures.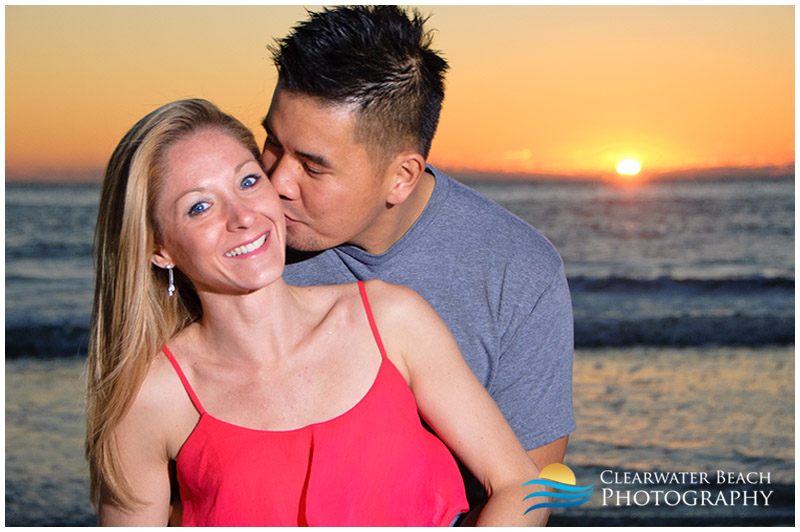 Photographers in Clearwater Florida – Owner/Operators vs. Contractors
This subject is probably the most ignored qualification when considering a choice from the pool of Photographers in Clearwater Florida. Is the Photographer who's going to be taking your photos the Owner, or a contracted Photographer? This may or may not be an issue as there are many very talented contract Photographers, but Owner Operators tend to provide a bit more consistency with their photos, and have more at stake when it comes to ensuring that your photos come out great. It's their reputation on the line, after all. I have had the pleasure of using contractors on very few occasion, usually because I was already booked on the dates being requested, but it's ALWAYS disclosed to the families inquiring prior to booking. That way, they can make a knowledgeable decision before committing.
The Balancing Act EVERY Photographer in Clearwater Florida Should Know
If you're looking for Photographers in Clearwater Florida for portrait sessions on the Beach, it's important to choose one that understands how to balance natural and artificial (flash) lighting. If you find a Photographer that claims that they are "natural light" Photographers who don't use flashes, it may be an indication that they are not comfortable with this concept. Often times this can lead to poorly lit portraits where either the tone of the family members turn out too dark or conversely to compensate, the beautiful sky behind them is now completely blown out. Again, there are times and locations when natural light produces a softer more appealing photo, but there are times when a flash is absolutely essential for creating beautiful Sunset portraits. I don't think I could have pulled off any of the photo samples you see on this page without a flash. As a Photographer in Clearwater Florida, you have to learn to be proficient at both. Photographers who don't will typically count on software to make dramatic corrections to lighting in post-production, which can lead to very unnatural looking portraits.
Clearwater Beach Photography has had the opportunity to produce stunning mixed-light portraiture for hundreds of families throughout the past decade. And, I'd LOVE to add you to my collection of what I consider "Fine Art Photography". If you're looking for a Photographer in Clearwater Florida, give me a call to discuss your upcoming visit. I would love to meet you and yours on one of our beautiful beaches for a photography session you won't forget.